Switchgear and protection panel specialist expertise.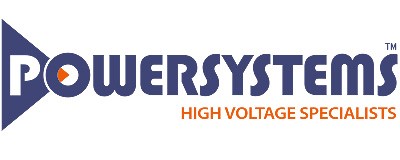 Switchgear is essential for protecting electrical infrastructure in any system
Installation of high voltage switchgear is a highly specialised activity. Powersystems have the specialist expertise to install switchgear from 415 V to 132 kV. Powersystems have installed and commissioned every type of switchgear including oil, air, SF6 and vacuum circuit breakers.
Powersystems offers a full electrical infrastructure project solution from design concept through to final installation and commissioning. From standard contracts through to complex turnkey projects, this includes maintenance, installation, testing and commissioning services for all HV/LV distribution equipment, including switchgear as well as protection and control systems.
Powersystems provide electrical infrastructure products and services to the renewables, generation, nuclear, commercial industrial, and grid stability sectors.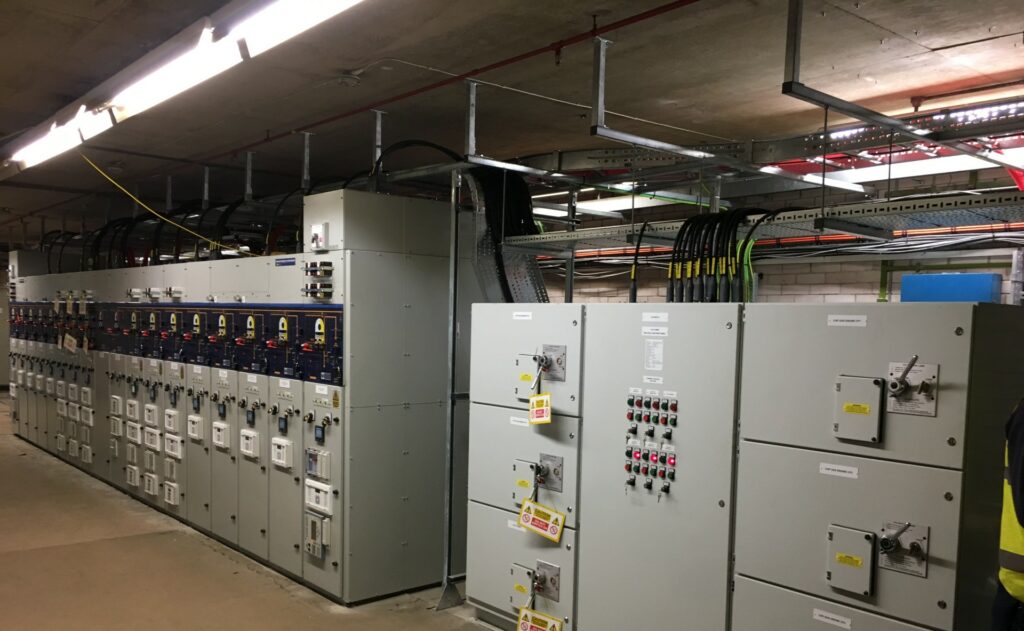 Powersystems switchgear and protection panel service
Powersystems high voltage specialist electrical engineers are certified and competent to supply, install, test, and commission LV to HV switchgear as well as protection and control panels up to 132 kV
Powersystems are proud to have developed close partnerships with the world's leading brands of switchgear manufacturers including GE, ABB, Schneider Electric, Mitsubishi Electric, Ormazabal, Hawker Siddley, Lucy and Siemens. This means you can purchase with confidence and safe in the knowledge that we only supply quality products for optimum performance and minimum downtime
Powersystems offer onsite installation, modifications and maintenance of switchgear and protection systems including retrofit and replacement solutions with minimal site and project disruption
Working closely with our customers to ensure products achieve their exact specifications our experienced team of electrical engineers, design bespoke protection panel systems to achieve technically accurate and competitive solutions
On-site installations and modifications are completed in line with individual requirements and tight timescales
We also bespoke manufacture bespoke protection panels for your project in our own workshop
Challenging delivery and installation requirements are accommodated using Powersystems experiencedteams and/or third party approved contractors
We operate and maintain a quality assurance procedure in accordance with ISO 9001, accredited and audited by Lloyd's Register Quality Assurance
All Powersystems site personnel are qualified, as part of their roles to either; ECS, SSSTS, SMSTS, IOSHH and carryout works in line with regulations and industry standards
Powersystems protection panels are designed, hand built and tested by an expert team at our head office. The engineering team are directly involved with the onsite commissioning and energisation. Over the years this has enabled the company to modify or change aspects of the design during assembly if required to do so by the customer and to upload or modify software and simulate every fault condition, inputs and outputs etc within the workshop environment, therefore considerably reducing commissioning time on site.
Powersystems manufacture switchgear remote control panels to a standard layout of any multiples of switchgear configurations. An engraved line schematic clearly mimicking the switchgear layout using pad lockable switches and directional red and green LEDs help give very clear indication and safe operation, especially important when issuing and receiving permit documentation.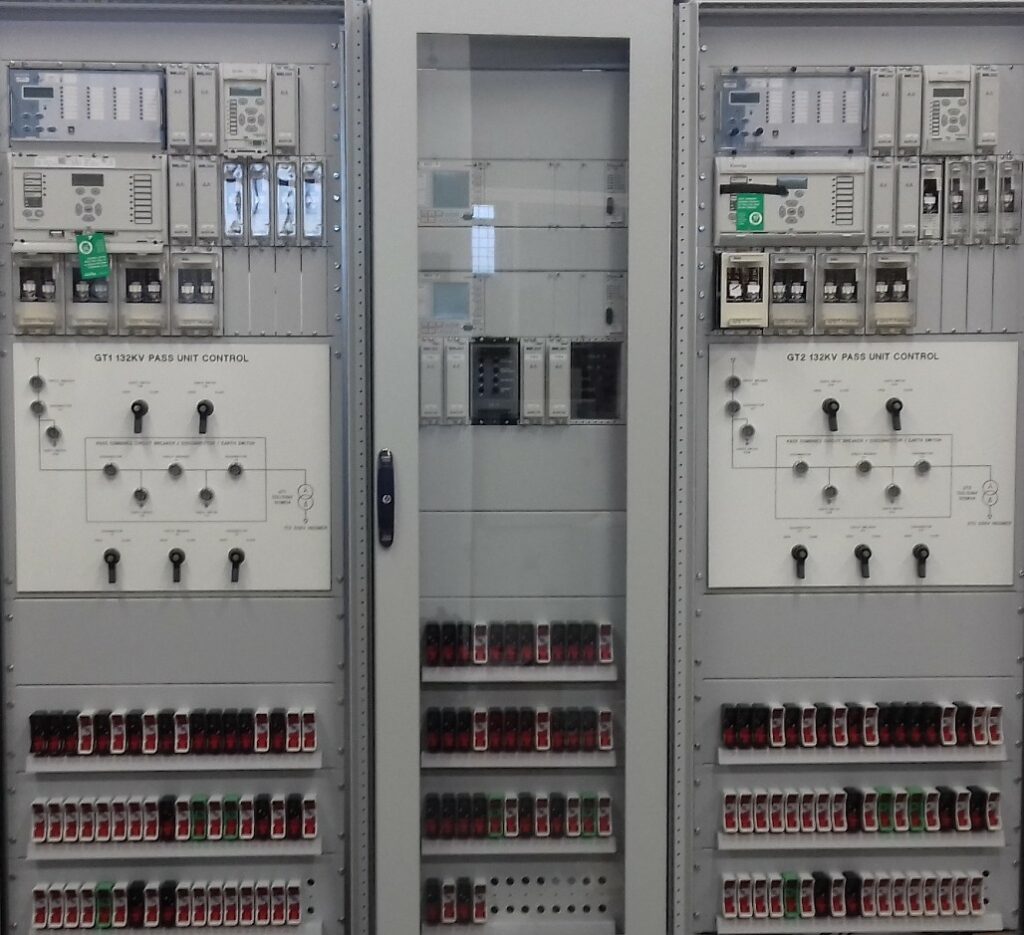 ---
What is switchgear?
Switchgear is an integral part of an electric power system. Switchgear refers to collection of the switching devices that are used for controlling, protecting, and switching the electrical circuits and equipment.
The main product types of switchgear are high voltage, medium voltage and low voltage.
The products are installed indoor and outdoor as gas-insulated switchgear (GIS), air-insulated switchgear (AIS) and others.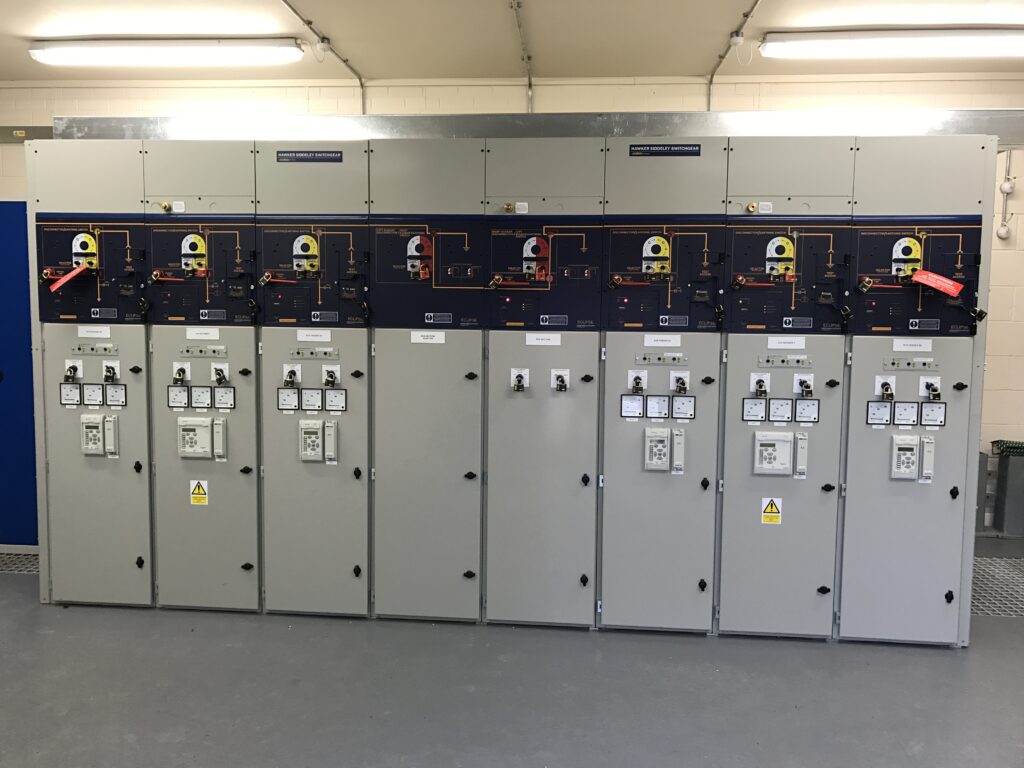 Switchgear is used in residential, commercial, and industrial installation projects. Switchgear is composed of fuses, switches, relays, isolators, circuit breaker, voltage and current transformer, surge arresters, that protects electrical hardware from fault conditions.
Electrical switchgear is connected to electric supply systems and is used in both low and high voltage power transformers. Switchgear is used both to isolate equipment to allow work to be done for maintenance, repair and to protect from faults (an abnormal electric current).
This type of equipment is directly linked to the reliability of the electricity supply, every time there is a defect in the electric power system, like a short circuit, a massive current flow through the electric setup, which is damaging to the structure and causes supply disruption to the users. It is crucial to ensure optimum electrical protection.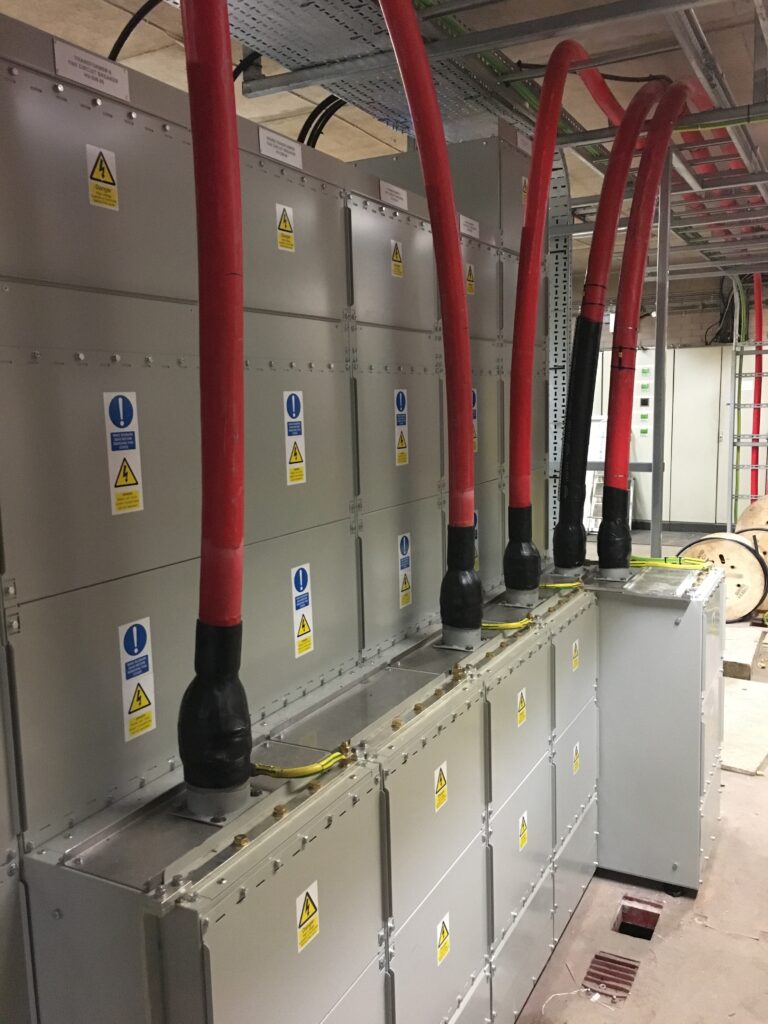 ---
Why is electrical protection and control important?
All electrical equipment and circuits need to be protected from damages due to voltage fluctuations and abnormal currents.
Electrical protection devices like surge arresters, surge protectors, fuses, relays, circuit breakers, reclosers, and other devices, ensure that currents do not exceed the current limit of your equipment.
Electrical protection and control devices make electrical installations more reliable and always under control. This is imperative to protect us all and the environments that we live and work in from short circuits, unintentional electrical accidents, and fires.
---
How does switchgear work?
Automated protective switchgear consists of a relay and circuit breaker. The relay above other things supervises the circuit and acts whenever there is a fault. The protection relay isolates the faulty circuit and disconnects the disrupted line. This ensures that the appliances do not get damaged and there is an uninterrupted supply of power. Relays ensure that the faulty part remains isolated while the healthy part continues to function as usual.
Switchgear enhances reliability
In case of malfunction switchgear counters quickly to prevent the damage from spreading to the healthy parts, it helps to prevent the complete shutdown of a circuit
Switchgear can alter between functioning and non-functioning parts in a circuit – the switchgear then separates the non-functioning components to ensure an uncompromised power supply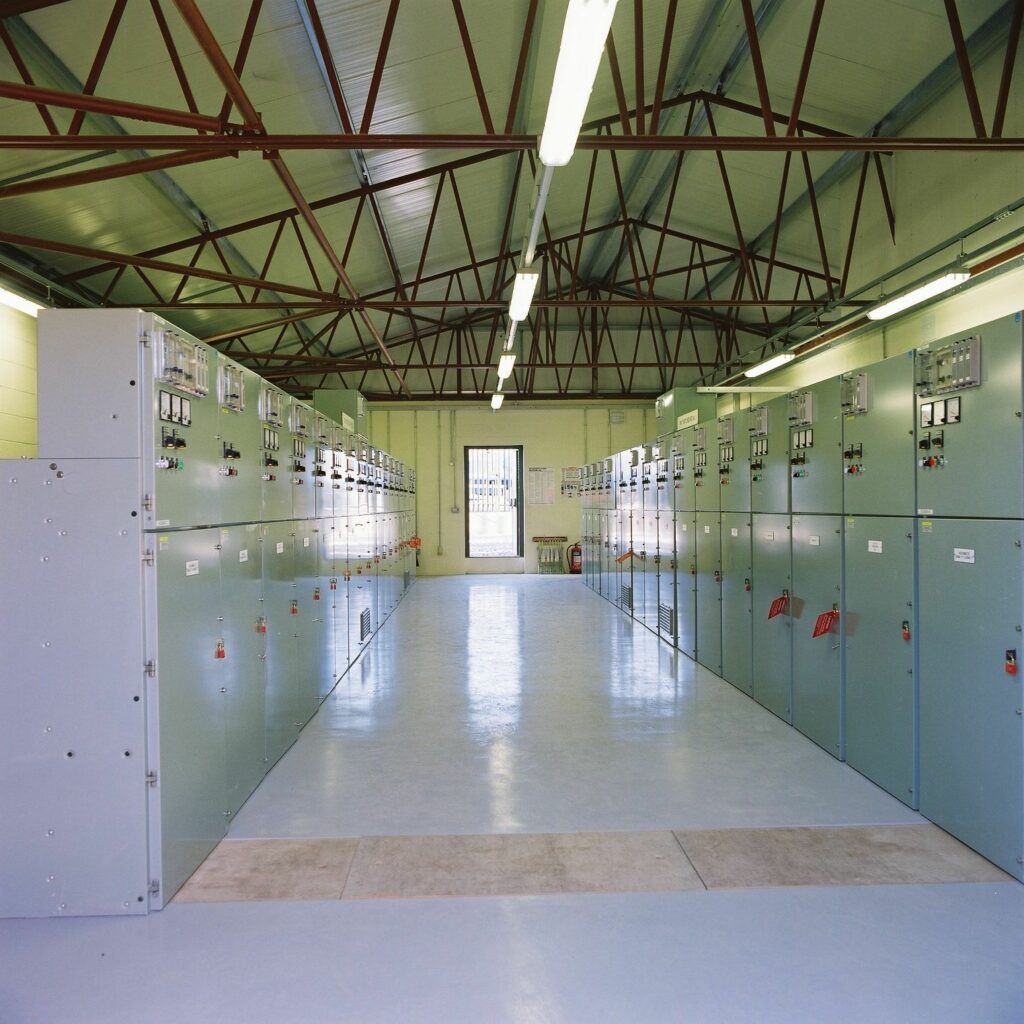 What are the different types of switchgear?
There are different types of switchgear, differentiated on their voltage levels. The three categories are:
High Voltage (HV) Switchgear 66 kV to 132 kV
Medium Voltage (MV) Switchgear – can operate between 3 kV to 36 kV. There are different types of MV switchgear. Switchgears are extensively used in industrial setups for smooth power distribution. They are found in wind and solar power farms
Low Voltage (LV) Switchgear – has capacities up to 1 kV
---
History of switchgear
Switchgear is as old as electricity generation. The earliest central power stations used simple open knife switches, mounted on insulating panels of marble or asbestos. Power levels and voltages rapidly escalated, making opening manually operated switches too dangerous for anything other than isolation of a de-energized circuit.
Oil-filled switchgear equipment allows arc energy to be contained and safely controlled. By the early 20th century, a switchgear line-up would be a metal-enclosed structure with electrically operated switching elements using oil circuit breakers.
Today, oil-filled equipment has largely been replaced by air-blast, vacuum, or sulphur hexafluoride (SF6 equipment), allowing large currents and power levels to be safely controlled by automatic equipment.
High-voltage (HV) switchgear connecting, or disconnecting part of a high-voltage electrical system is essential for the safe protection and operation without interruption of a HV power system and is important because it is linked to the quality of the electricity supply. HV switchgear was invented at the end of the 19th century for operating motors and other electric machines. The technology has been improved over time and can now be used with voltages up to 11 kV.
Typically, switchgear in substations is located on both the high and low voltage sides of large power transformers. The switchgear on the low-voltage side of the transformers may be located in a building, with medium-voltage circuit breakers for distribution circuits, along with metering, control, and protection equipment.
For commercial and industrial applications, a transformer and switchgear may be combined in one housing, called a packaged substation. Growing investment in the renewable energy market and the enhanced demand for safe and secure electrical systems are expected to generate the increase for switchgear
---
Future of switchgear and protection systems
The global switchgear market is expected to reach $128.01 billion in 2026. The demand for electricity generation is projected to drive the switchgear market.
The availability of electricity has become essential for economic development and poverty alleviation
The development of industry and urbanisation requires the continuous electricity supply, and the reliability of the electrical supply depends heavily on the performance of the switchgear
Government regulation, climate change goals and renewable energy policies for electricity generation is driving the demand for switchgear
Globally, the last few years witnessed a rising demand for installation of electric substations to restore normal power supply as fast as possible in case of emergencies. The installation of mobile substations enables the restoration of electricity under outdoor conditions or in unforeseen circumstances and is functionally designed to provide temporary power supplies as soon as possible.
Therefore, increasing the adoption of mobile substations is one of the latest trends that will positively impact the switchgear market
Get started, planning your project with Powersystems
Speak with one of our high voltage electrical engineering specialists today.