Energy is our business, energy is our passion and energy is our people and this makes our team at Powersystems amazing
It's all about the people
Every person's job at Powersystems is about supporting people, you, me, us, and each other – so that we all achieve our goals
Our Powersystems team, who we describe as high voltage specialists in electrical engineering can share this confidently with you because we have over 46 years (1977-2023) of business, project and people experience.
Powersystems has grown as a business by individuals, people and our overarching team's reputation to become a trusted force in the design, installation and commissioning of electrical infrastructure across the UK.
We share the same mission and values, our people are our brand, they are our spearheads and our power source. The Powersystems team will do everything they can to exceed your expectation and to support you through your journey to deal with the project delivery, project challenges, project politics and to get the job done.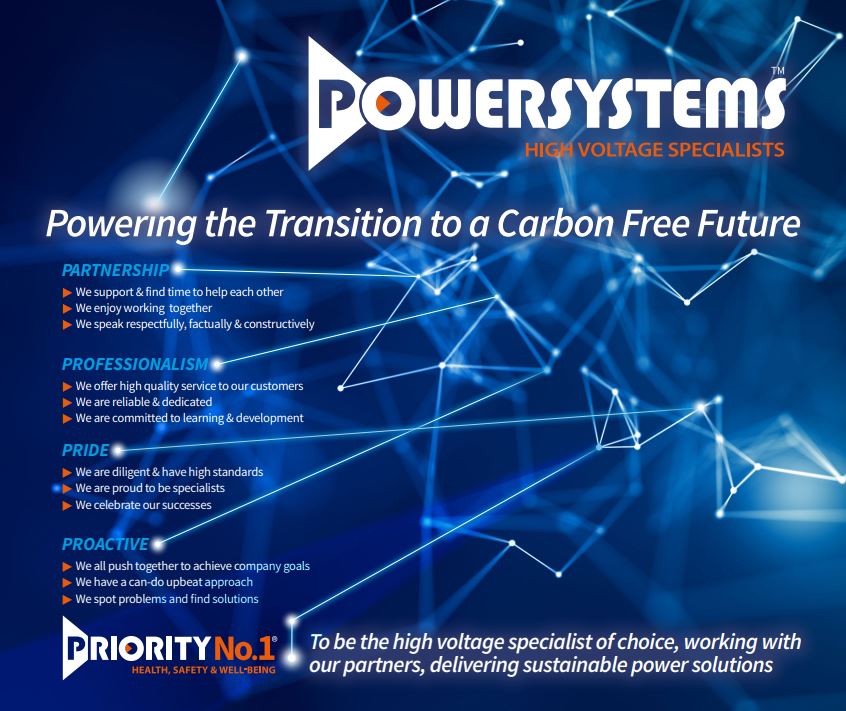 We are proud to say that customers are for life.
Celebrating 26 years as the first Lloyds National Electricity Registration Scheme 's accredited Independent Connection Provider (ICP), Powersystems people are capable of delivering contestable grid connections at voltages up to 132 kV.
Since 2000, Powersystems have connected over 6 Gigawatts of renewable energy generation to the UK electricity grid, along with decarbonisation technology which includes; wind energy projects, solar, anaerobic digestion, hydroelectric, electrical vehicle infrastructure, short term operating reserve STOR, combined heat and power (CHP), Grid stability projects like rotating stabilisers, and battery energy storage systems (BESS) as well as commercial industrial private wire networks.
Powering the transition to a carbon free future, along with our partners, clients and broader stakeholders, collaboratively we are delivering the United Kingdom's clean energy transition to achieve our goals of Net Zero by 2050.
At the core of our operations is a commitment to the highest standards of health and safety, welfare, quality and the environment. Powersystems Integrated management systems are ISO accredited and their approach is to aim for the best industry practice in all. Our Priority No.1 statement values the health, safety and well-being of our partners, your people and the wider community of stakeholders.
Powersystems UK Ltd. is an Employee-Owned Business and has a keen interest in the well-being of all its people. We will encourage and empower you to be imaginative, share great ideas and be involved in the success of the business.
Speak to Powersystems today
You can contact us as follows