Powering the transition to a carbon free future whilst continuing to ensure grid stability, security and affordability is one of the greatest challenges of our time
Choosing a career in the renewables sector at Powersystems as an electrical engineer means that you are connecting our future energy system, powered by clean electricity. This future is better for industry, billpayers and the environment both within the UK and for markets all over the world.
The energy system is changing rapidly. The UK's net zero decarbonisation targets are accelerating the growth of new low carbon energy sources.
How you can help the UK achieve its 2050 Goal
Achieving the goal for 2050 of a secure, affordable and low carbon energy system means deploying technologies that are currently, or soon to be, available, as well as developing new technologies which may have an impact in the future.
The role of electricity generation within the whole energy system is changing. Historically it has been to deliver sufficient energy to meet demand and security of supply, however in future the electricity system will be supply-led, with renewable generators producing electricity when it is sunny or windy and flexible sources of demand adjusting to use and store this energy.
Apply here for one of our vacancies today
---
What this means to you, why choose a career as an electrical engineer?
The renewable energy sector is a fast-growing, innovative and exciting industry that has a breadth of opportunities and many diverse career paths to choose from. In offshore wind alone, the UK is looking to support 27,000 direct jobs and a further 130,000 direct jobs in the renewables sector by 2030.
From electrical project engineers, electrical design engineers, SAP's, supply chain and logistics manager, engineering administrators,  commissioning engineers and more – what career path will you choose at Powersystems?
Apply here for one of our vacancies today
---
About Powersystems
Powersystems are a specialist High Voltage (HV) electrical engineering company established in 1977. We pride ourselves on being the first Lloyd's register accredited Independent Connection Provider (ICP).
As a high voltage specialist electrical engineering company with over 45 years of experience, we have grown by reputation to become a trusted force in the design, installation, and commissioning of electrical infrastructure across the UK.
We design and install HV infrastructure projects ranging from 6.6 kV – 132 kV. Since 2000, Powersystems have connected over 6 GW of renewable energy generation to the UK grid, along with decarbonisation technologies including, wind and solar projects, electrical vehicle infrastructure, rotating stabilisers, anaerobic digestion, STOR, hydro, combined heat and power, nuclear, battery energy storage BESS and commercial industrial private wire networks.
This means that we are involved in connecting small scale to full turnkey projects on the distribution network as well as the transmission network. We always ensure that we provide the very best engineering practice and expertise in delivering projects for our clients.
Marking a new chapter in the history book, from January 2019 Powersystems became an Employee-Owned Trust (EOT). This ensures a continuing legacy based upon its original founders engineering ethos and family values.
Apply here for one of our vacancies today
---
Why join us?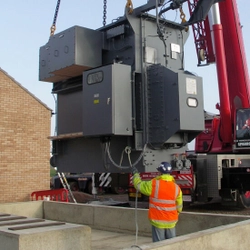 Powersystems are looking for talented electrical engineering partners who do not want to be pigeonholed, but who are brave enough to try new opportunities, be forward thinking and have the initiative to drive their own career path. We have the breadth of knowledge, expertise, training, and the friendliest team to help you assist in your success and development.
Just like our unique HV engineering company – our bespoke approach to your career is practical and based on experience which will complement  your current position and  experience. Throughout each project's life cycle, you will gain skills and insight into all aspects of electrical engineering.
From the first day of joining our team you will be involved in real work and real projects which will help shape the future of the UK's energy sector. You will also gain exposure to the business and commercial side of the industry which will help you become a well-rounded engineer.
We all pull together to ensure professional and safe execution of every job and we work tirelessly to provide our clients with the highest quality delivered results throughout the life cycle of their project and beyond.
Apply here for one of our vacancies today
__________________________________________________________________________________________________
Projects
Would you like work to with a great team of people at Powersystems, delivering some of the UK's major pioneering Infrastructure projects?
With our own internal health and safety brand, Priority No. 1, at the core of our operation is a commitment to the highest values of health and safety, welfare, quality, and the environment.
Powersystems Renewable Green Energy Infrastructure Projects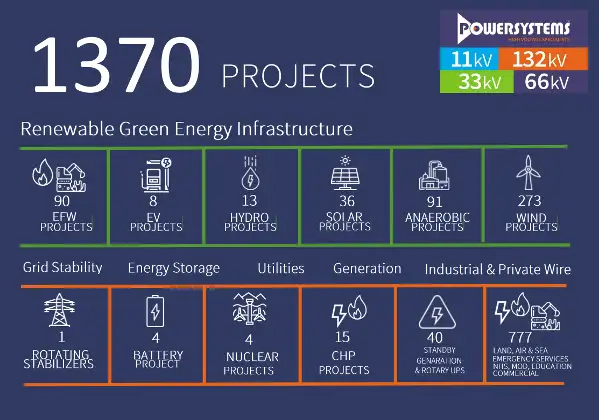 Wind and Offshore Wind
Since 2000, Powersystems electrical engineering projects have connected 27% of all UK land-based wind farms. Powersystems have installed 1,789 wind turbines which equates to 4.77 GW of energy generating to the National Grid which is enough to power up to 3.5 million UK homes
Powersystems has worked on 25% of the current 12 offshore wind farms owned or partly owned in the UK
Building the world's largest offshore wind farm, with 200 turbines on each phase, Powersystems have been appointed to construct the 2.4 GW Dogger Bank wind farm A and B onshore cable route
On-shore wind energy sector high profile 132 kV projects
Energy Superhubs, EV and Battery Storage
Powersystems are actively involved with the most ambitious urban decarbonisation battery energy storage systems (BESS) initiatives, demonstrating the UK's commitment to building a thriving low carbon economy
Energy Superhub Oxford has developed Europe's most powerful electric vehicle (EV) charging hub at Redbridge Park & Ride. The site is connected directly to National Grid high-voltage transmission system, alleviating strain on the local distribution network and delivering up to 10MW of power, enough to charge up to 400 cars at once.
Transportation & Electric Vehicle Infrastructure Industries (Ports, Airports, Rolls Royce Aero Engines, Airbus, Jaguar Land Rover and Formula One Race Teams (Mercedes Petronas, Williams F1 and Red Bull Technologies)
Grid Stability
Powersystems has delivered the £20 million National Grid's Stability Pathfinder, Keith Greener Grid Project to support the UK meeting its zero carbon grid target by 2025 – Addressing the need for grid stability, this project uses two rotating stabilizers manufactured by GE Power Conversion to increase the amount of renewable energy that can be utilized on the grid. It will be instrumental in helping shape a responsible energy future by reducing reliance on fossil fuels.
Tidal Energy
The Morlais project will install turbines at what will be one of the largest tidal stream energy sites in the world, covering 13 square miles of the seabed. The Morlais Infrastructure development aims to further the development of tidal power generation technologies by providing grid connectivity
The Morlais project is powered by kinetic energy from tidal currents. The project won planning permission from the Welsh government last December and is designed to power more than 180,000 homes once fully operational.
Public sector – Ministry of Defence, NHS Trusts UK wide, Universities, Schools, Water Utilities.
11 kV projects
Food Manufacturing and Process Plant Industries
Manufacturing, Technology & Innovation Industries
Apply here for one of our vacancies today
Powersystems UK is an Employee-Owned business and has a keen interest in the well-being and success of all its employees. We will encourage and empower you to be imaginative, share your great ideas and be involved in the future success of our business.
Everyone is welcome at Powersystems. We strive to create an inclusive and diverse environment where everyone has a voice and where you feel confident being yourself. We're committed to equality, diversity and inclusion. We'd like our future workforce to have an equal gender balance, represent a broad mix of people from minority ethnic backgrounds, LGBTQ+, those with a disability and supporting social mobility.
We offer a positive and rewarding working environment, relaxed in terms of some of our approaches, yet highly professional with excellent support mechanisms in place to develop your knowledge and career. If you believe that you have what it takes to power our future together then we wish to hear from you.
Applicants must be eligible to work in the UK.