27 Years to Net Zero
Rapid decarbonisation of the electricity sector is essential to meet net zero and enable the decarbonisation of other sectors
Powersystems recognize our responsibility to help protect the planet. We are committed to minimizing the impact our Company has on the environment and we are supporting those who are working to improve global environmental sustainability
Our Corporate Social and Environmental-footprint strategies seeks to address greenhouse-gas (GHG) emissions and waste across our entire operation as we strive to continually strengthen our environmental practices. We will comply with all applicable environmental laws and regulations
Powersystems Journey to Net Zero – Our Commitment
Powersystems recognize our responsibility to help protect the planet.
We are committed to minimizing the impact our Company has on the environment and we are supporting those who are working to improve global environmental sustainability.
Powersystems have made an internationally recognised commitment which is aligned with the latest climate science.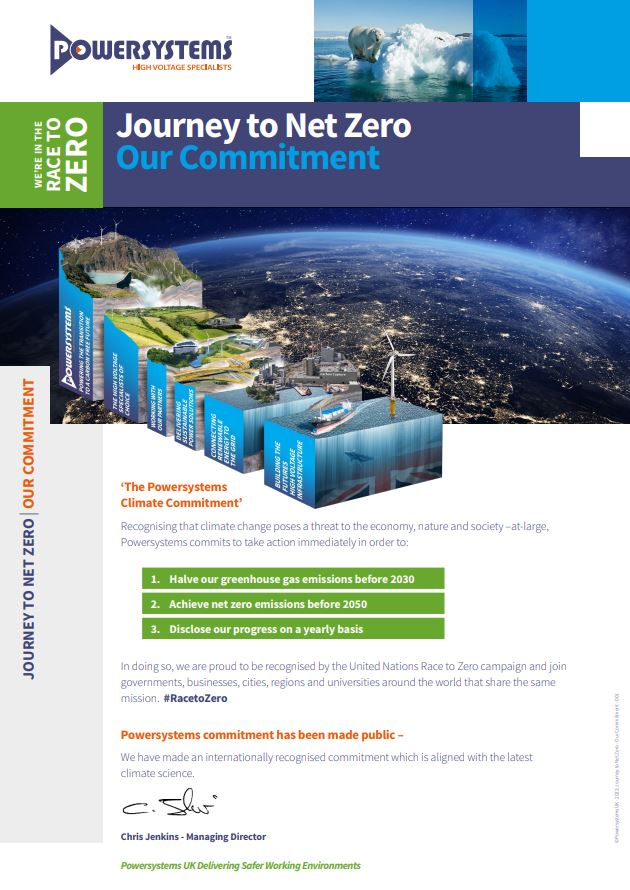 Carbon neutrality
Net Zero, sometimes called carbon neutrality, is when the amount of carbon dioxide we release into atmosphere is balanced out by the amount we takeout.
We recognize that GHG emissions represent a significant part of our Powersystems environmental footprint, from the electricity we use in our offices to the travel our people undertake. Our approach to carbon neutrality includes reducing our emissions and off setting our carbon footprint using a variety of means, such as investing in tree planting programs.
We will measure the annual GHG emissions of our business operations, have them verified under the ISO14064 standard, contributing to the Sustianable Development Goals (SDG 9 and 13) and share them as part of our social-responsibility reporting, including in our social-responsibility report
We are committed to reach net-zero climate impact by 2050. We will set science-based targets to reduce our GHG emissions in line with a 1.5°C pathway and will neutralize the impact of our remaining footprint by removing an equivalent volume of carbon dioxide from the atmosphere
We will set science-based emission-reduction targets for direct emissions and indirect emissions from purchased energy (Scope 1 & 2 emissions) as well as other indirect emissions (Scope 3 emissions). The targets will consist of reducing our absolute Scope 1 and 2 GHG emissions 25 percent by 2025 from a 2021 base year and reducing our Scope 3 GHG emissions from business travel 30 percent per employee over the same time-frame
To help achieve these GHG emission-reduction targets, and as a member of the Race to Zero under the SME Climate Hub coalition, we will set a target of purchasing 100 percent renewable electricity by 2030
We aim to lower indirect emissions (Scope 3) by finding alternatives to travel where we can, and by encouraging colleagues to choose travel options that are better for the environment
We will target high-environmental standards for our office and major future renovations
We will invest in carbon-reduction projects to offset the emissions we have not yet been able to eliminate. These projects will be independently verified to international standards, such as Gold Standard and The Verified Carbon Standard (VCS)
Reducing waste
We are committed to reducing waste across our business operational sites.
We aim to reduce waste generation and seek to minimise the waste we send to landfills
We promote reuse and recycling, as well as the use of supplies that are recycled and recyclable and whose production and use minimise the consumption of natural resources
We encourage our office and project sites to drive initiatives to reduce waste: including sorting and recycling materials, recycling transformer oil, requesting suppliers take away packaging at the time of delivery, recycling batteries and accumulators, purchasing products that are identified as 100% renewable, donating used technology equipment, putting drinking water taps in place, reducing food waste, and running recycling campaigns
Working with external stakeholders
We are committed to working with our suppliers, clients, and other stakeholders to reduce their environmental footprint.
As part of our sustainable-procurement strategy, we have adopted an approved supplier questionnaire that sets forth our expectations of our suppliers, including reducing environmental impact
In addition, we engage with suppliers to improve the environmental impact of the products and services we purchase
Our environmental and sustainability practice serves clients on a wide range of topics, including the ways in which they can improve their environmental performance and how they can develop more sustainable methods of operation
Powersystems Integrated Management System (IMS) set by our board—with the support of its subcommittees, oversees our overall environmental-footprint and corporate social responsibility (CSR) strategy. The Managing Director has overall responsibility for our environmental sustainability and is responsible for shaping, maintaining, and ensuring the implementation of our environmental-footprint and CSR strategy.
Speak to Powersystems today
You can contact us as follows