Powersystems are actively powering green energy centres of the future by reducing operational costs through energy consumption savings, reducing carbon emissions, and providing clients with innovative solutions, resilience, and security of supply to the National Grid.
Powersystems were awarded the contract for the Electrical Balance of Plant at the Tritax Symmetry Park Energy Centre (Biggleswade) working again with BasePower and acting as Principal Contractor providing all of the HV & LV Infrastructure for the Energy Centre. Further renewable technologies, the battery and generating assets were from Rolls Royce.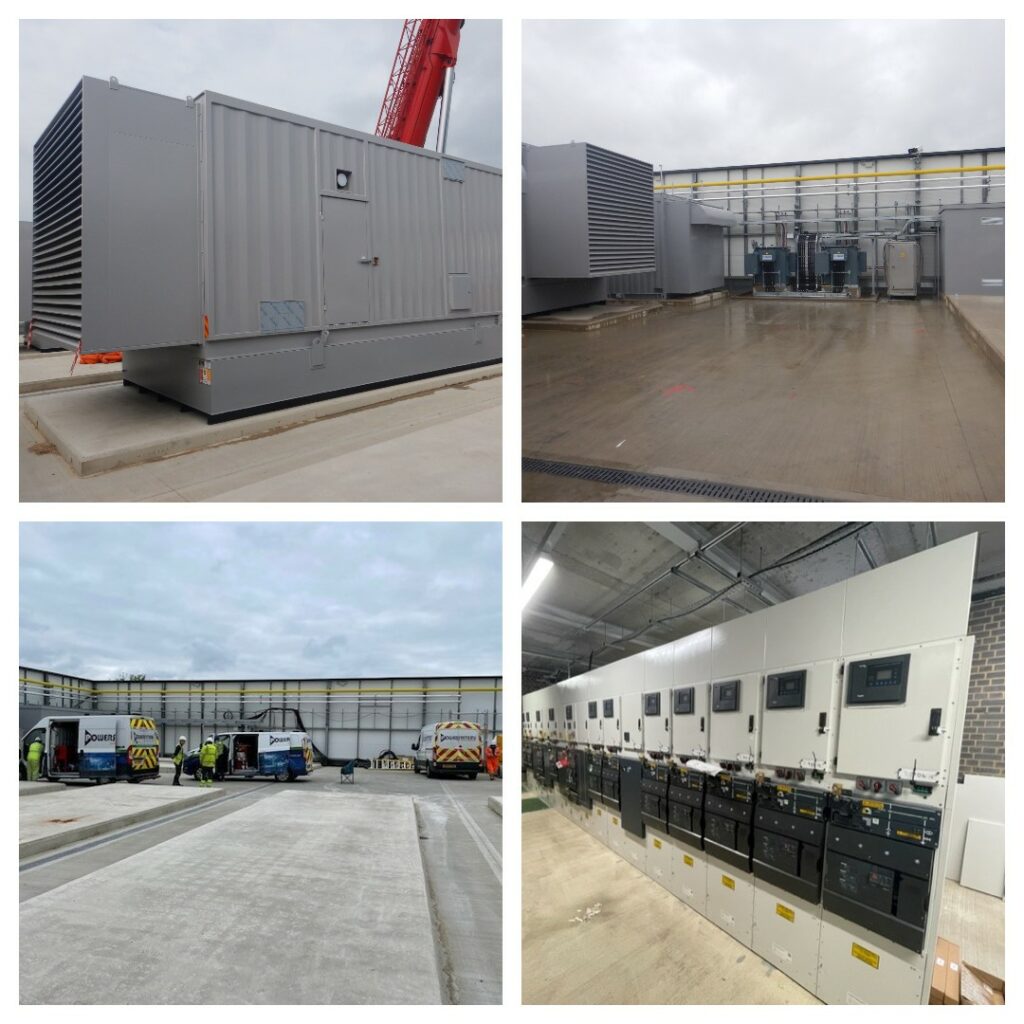 Powersystems were appointed as the specialist delivery partner to undertake the design, supply, installation, and commissioning works for the balance of plant assets within the newly constructed Energy Centre to connect generating assets inside the Energy Centre to the HV distribution of the wider 11 kV distribution system at Symmetry Park, Biggleswade.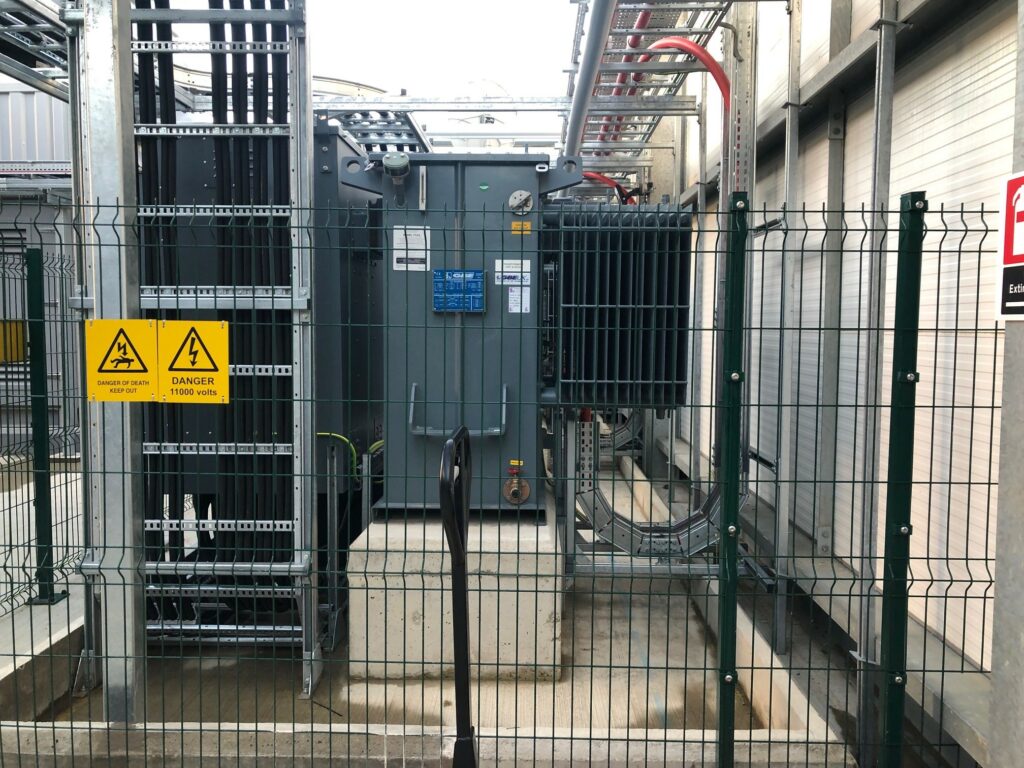 A combination of Gas CHPs, Diesel Generators, Battery Energy Storage (BESS), microgrid controlled, integrated with a new 11 kv Schneider Genie EVO 10 panel switchboard, connected to the existing UKPN (DNO) grid (which has an import constraint of 2,500 kva) as the Phase one off taker utilises the full capacity, there is a requirement to provide additional capacity for the Phase 2 build on the Tritax Symmetry development which will be supplemented by the new Energy Centre microgrid assets, which will also include roof mounted solar with an output of 4,500kw.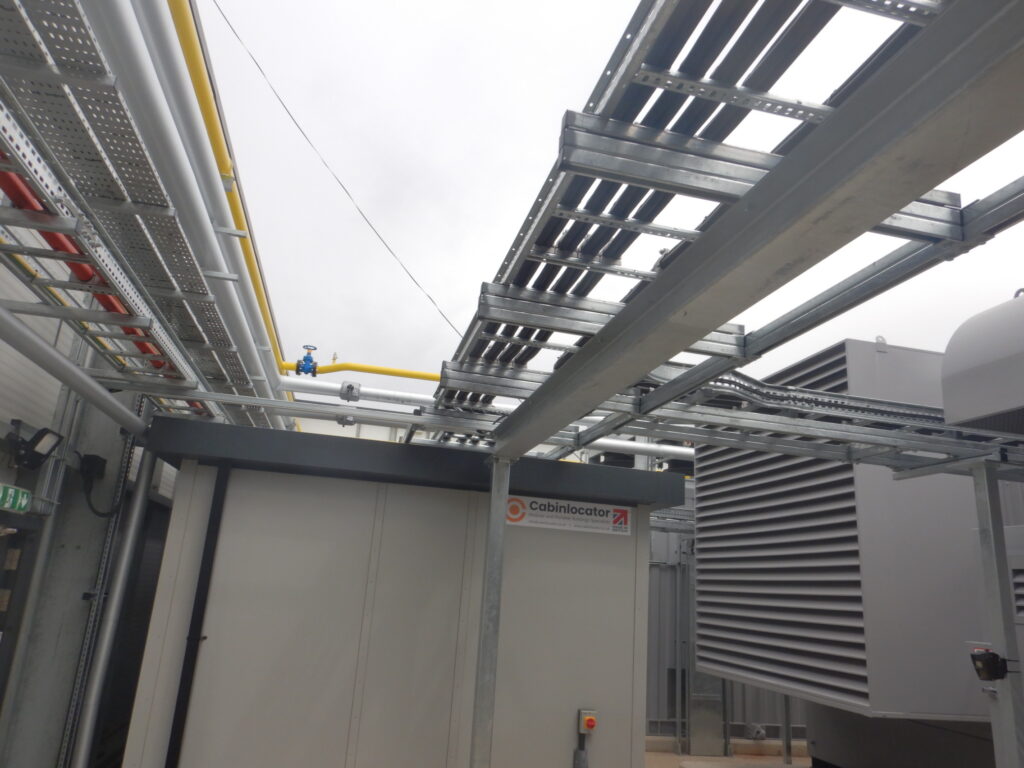 The micro grid system now commissioned will provide constant all year-round power of up to an additional 2000 kW thus providing the occupants of Symmetry Park the same level of supply security, availability, and quality as the National Grid.
The scheme operates in parallel with the DNO network via a synchronising bus section circuit breaker. The generation assets deployed by Rolls Royce, can provide N+1 resilience. The scheme under total loss of grid supply (UKPN network) can operate fully in 'island mode' and under black start conditions. Providing a fully resilient supply to Phase 2 independent of the electricity grid and provide a smooth transfer back without interruption to customers on grid supply restoration.
Powersystems were the preferred supplier of choice to deliver this ground-breaking technology, working in conjunction with BasePower and Rolls Royce the first of this type and scale to be deployed in the UK.
Notes to Editors:
Contact Information:
Powersystems are powering the transition to a carbon free future
As a high voltage specialist electrical engineering company with over 46 years (1977-2023) experience Powersystems have grown by reputation to become a trusted force in the design, installation and commissioning of electrical infrastructure across the UK.
Celebrating 26 years as the first Lloyds National Electricity Registration Scheme 's accredited Independent Connection Provider (ICP), Powersystems are capable of delivering contestable grid connections at voltages up to 132 kV.
Since 2000, Powersystems have connected over 6 Gigawatts of renewable energy generation to the UK electricity grid, along with decarbonisation technology which includes; wind energy projects, solar, anaerobic digestion, hydroelectric, electrical vehicle infrastructure, short term operating reserve STOR, combined heat and power (CHP), Grid stability projects like rotating stabilisers, and battery energy storage systems (BESS) as well as commercial industrial private wire networks.
Working with partners, delivering sustainable power solutions, proudly the Powersystems high voltage specialist team have connected 30% of all U.K. onshore wind farms.
At the core of the operation is a commitment to the highest values of health and safety, welfare, quality and the environment. Powersystems Integrated management systems are ISO accredited and their approach under their health and safety 'Priority No.1' brand is to aim for the best industry practice in all.
Powersystems UK Ltd. is an Employee-Owned Business and as such has a keen interest in the well-being of all its employees. They encourage and empower you to be imaginative, share great ideas and be involved in the success of the business.
Speak to Powersystems today
You can contact us as follows