A day in the life of an electrical graduate engineer
Powersystems graduates are powering the transition to a carbon free future
Our early career graduates ensure our industry keeps moving forward and have ideas and innovations that future proof our business
Powersystems graduate engineers are eager to be involved and their passion brings a refreshing boost to our employee culture, not to mention their natural proficiency and embracement of technology, which in the digitalised world we currently live in is a huge advantage
Why have you chosen electrical engineering as your career?
I'm Dylan – I've been at Powersystems as a graduate for just over a year and a half now (two years in September). I joined Powersystems straight out of university and have really enjoyed my time here so far. Outside of work I enjoy playing Sunday league football and running.
I chose electrical engineering as my career because it suited my strengths at school (maths and physics were always my strongest subjects), and because I had an interest in renewable energy based on my experience learning about climate change within Geography.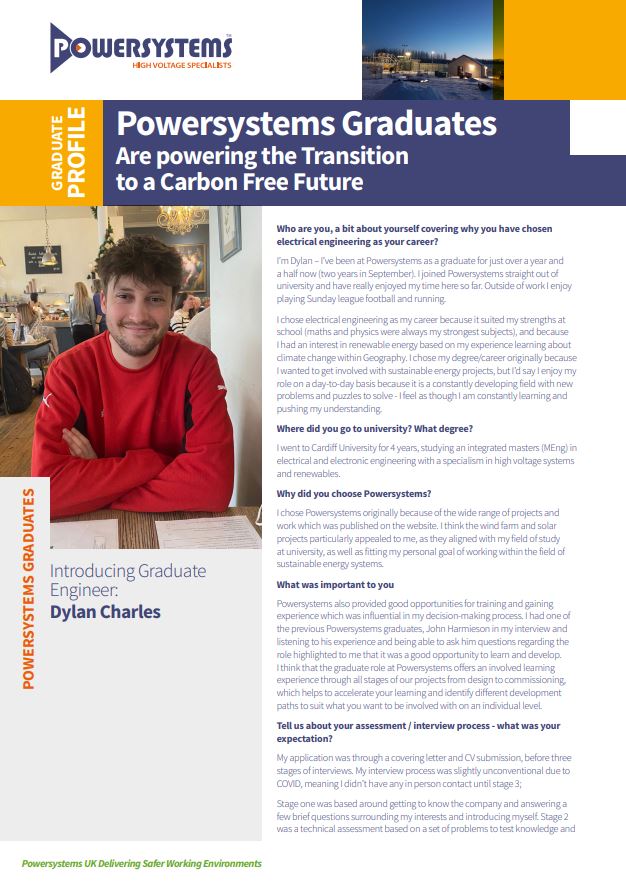 Where did you go to university?
I chose my degree and career originally because I wanted to get involved with sustainable energy projects, but I'd say I enjoy my role on a day-to-day basis because it is a constantly developing field with new problems and puzzles to solve – I feel as though I am constantly learning and pushing my understanding. I went to Cardiff University for 4 years, studying an integrated masters (MEng) in electrical and electronic engineering with a specialism in high voltage systems and renewables.
Why did you choose Powersystems?
I chose Powersystems originally because of the wide range of projects and work which was published on the website. I think the wind farm and solar projects particularly appealed to me, as they aligned with my field of study at university, as well as fitting my personal goal of working within the field of sustainable energy systems. Powersystems also provided good opportunities for training and gaining experience which was influential in my decision-making process. I had one of the previous Powersystems graduates, in my interview and listening to his experience and being able to ask him questions regarding the role highlighted to me that it was a good opportunity to learn and develop.
Tell us about your assessment and interview process – what was your expectation?
My application was through a covering letter and CV submission, before three stages of interviews. My interview process was slightly unconventional due to COVID, meaning I didn't have any in person contact until stage 3;
Stage one was based around getting to know the company and answering a few brief questions surrounding my interests and introducing myself. Stage 2 was a technical assessment based on a set of problems to test knowledge and to assess how you approach engineering problems. Stage 3 was a trip to the office, to meet in person to ask any final questions, and sign the contract.
I would say that the interview process met expectations as the problem I was set in stage 2 wasn't something which I had covered extensively through my studies at university, and I feel as though it was a good test of how logically you approach questions and can justify your decisions.
I hadn't done huge amount of preparation going into the interview, as I had it just shortly after my final exam. But I drew a lot from learned modules at university, as well as my previous summer placement at another company. I'd recommend prospective applicants familiarise themselves with reading and understanding technical datasheets – aside from this though, the interview process is largely based around justification and logical thinking, which is something which you can demonstrate even if you haven't completed a similar task before in your studies.
Tell us about the differences between life in university and life at a place of work? Is it what you thought it would be?
The opportunity to travel and gain practical experience is one of the key differences! Being able to see the way our installation team in the construction phase has been a great experience so far within my role, and something which you don't have as much exposure to at university. Also, the role means you are involved with more aspects of the job; with work surrounding commercial elements – managing jobs in terms of finance and procurement, which are new experiences for me.
In terms of similarities though, I feel as though the support and opportunity for training allows for personal development, which has complimented the technical understanding I have through my university degree. People are approachable, and there is a core of experience within our team which means I have felt supported whenever I have asked for help.
The Powersystems graduate structure:
I started working for Powersystems in October 2020; the summer after finishing my university degree. The graduate programme at Powersystems initially is based around gaining as much experience as possible. Soon after joining the company, another graduate and I undertook several training courses.
Aside from the training courses, initially we were encouraged to visit site as much as possible, which meant I visited Leeds GSC hospital for 61850 commissioning works with, one of our commissioning engineers. I also both visited Powersystems projects; Douglas West wind farm, Hendy wind farm, South Kyle wind farm and Biogen Ocado shortly after joining.
As we have both developed further into our roles, we have taken slightly different paths – I am developing through a design route, and my graduate colleague is leaning towards a project management path. This means that we both have different milestones with regards to our own development. We do have common training courses – for example more recently we have both completed the OP40 operational course which lends itself to gaining switching experience, as well as the 18th edition wiring regulations training.
Important milestones for myself personally are based around the new responsibilities I have taken on within my role. Currently I am supporting the design of two wind farms, which involves the review of technical studies and documents produced by our subcontractors, HV cable sizing, protection grading and helping our commissioning engineers develop PSL (programmable sequential logic) for the relays. The programmable sequential logic is something which I have particularly enjoyed learning recently and I am looking to develop this with help from some of our commissioning engineers.
Although there is not a firm assessment structure internally within the graduate role, the work that we do is constantly assessed by either our line manager, or other senior members of our teams. The constant review process, as well as the opportunity to arrange meetings with my line manager means that there is a reporting structure in place for performance review, and active feedback is given on all work which we undertake.
During your first year what were your objectives, targets and supporting training?
Within the first 3-6 months, there was an emphasis on getting out to site as much as possible and undertaking training, as above. These months are used to provide a basis of understanding and bringing you up to speed with Powersystems' mode of operation. The Aston CPD course is something which has a milestone review, and assessment with grading on performance during this time. I found this was really helpful, particularly the module on earthing and substation design, as it related directly to my role within design.
Training is typically assessed on the course, for example at the OP40 and 18th edition courses I undertook, a final assessment was carried out by the course leader. I keep an archive of all the CPD training I have undertaken, as well as scans of certificates. I am going to create a spreadsheet of progress to chartership over the next few weeks, as this is something which I have been meaning to do for a while.
There hasn't been assessment internally within the company, although as I mentioned previously, assessment of work produced within the jobs is constant, with active feedback aimed at improving and developing us as engineers.
My line manager is a Senior Project Engineer– He offers support and advice for the jobs which I am undertaking, as well as guiding my development by suggesting new training opportunities, and potential for taking on new responsibilities. He's always available for a chat, and I can bring up any feedback I might have.
What further learning have you undertaken outside of work that you can share and inspire other graduates and learners with?
Outside of my work at Powersystems, during the early part of my career I did a bit of work with Banes3SG (a third sector group charity organisation). The work focused on delivering activity packages to people during COVID who may have not had access to the internet, to prevent loneliness. Aside from this, I have been undertaking a part time coding course through code academy in my spare time – I have just started learning Python.
Tell us about a typical week at Powersystems:
Tell us about your job responsibilities
My job responsibility is providing design support to jobs which I am involved in – currently this is Kennoxhead Wind Farm, Creag Riabhach Wind Farm, Sneddon Law wind farm and Thorpe Marsh Solar Farm. This involves document review, report writing, calculations (Specifically cable sizing, transformer sizing and fault level calculations) and producing technical drawings.
What does a day to day look like from short term tasks to long term tasks?
My role varies from week to week, but an example of my responsibilities are outlined in what I have done in the past week;
Monday – AM Helped with design submission for Leeds GSC, involving review of schematic drawings, markups to earthing drawings and cable schedule. PM helped put together RCIP schematic drawings for a cabinet we are building in our workshop.
Tuesday – AM Assessment of design reports for Sneddon Law Wind Farm, including reactive power capability, P28 studies and load flow simulations. PM – Carried out drawing review on wiring from circuit breakers for three of our wind farms (Kennoxhead, Sandy Knowe and Creag Riabhach) – Identified that the polarity of the indications was taken in the wrong order.
Wednesday – Helped put together O&M Submission documents for Kennoxhead O&M, including checking QUIDs (quality inspection documents) for completeness.
Thursday – Helped the tender team with drawings for various cable routes at Rag Lane tender project. PM – Also further work on the signals list for Creag Riabhach, as the DES panels have a Factory Acceptance Test this week.
Friday – Tender project for Crystal Rig IV – including cable sizing, SLD drawings, and Cable route drawings.
What does Powersystems expect from you in terms of standards of work, technical ability, the ability to work in a smaller and wider company team?
The expectation at work is that any documents I produce meet a standard which is defined within our design philosophies and CAD standards. This means that all work must be checked by someone within my team, to guarantee that these requirements are met. The scope of working within teams is something which I experienced within Kennoxhead in particular, as our project manager lead weekly reviews for the progression of the job against the contract milestones. More recently however, I have been largely working in smaller teams, and sending off my designs for review to one of our senior engineers.
How much responsibility do you have?
I have taken responsibility for Thorpe Marsh (with design reviews from senior engineers), and Awel Aman wind farm maintenance contract. However, I also work within teams for design responsibilities at Creag Riabhach, Kennoxhead and Sneddon Law.
How much input and collaboration do you experience?
I experience a lot of input from more experienced engineers whilst I am designing something, particularly if it is a topic which I haven't encountered before. We have weekly design team meetings, in which I can ask questions and for advice whilst undertaking certain tasks. I feel supported within my role.
When and where have you found you have gained the most experience?
I've gained the most experience whilst taking on responsibility for something new. For example, one of the most valuable experiences I've had so far was in designing the Creag Riabhach cable schedule, which required a lot of cross referencing of technical schematics to derive certain signals, and thinking about how the various control and SCADA systems interface with each other.
What training have you experienced in your role?
I've experienced a good amount of training so far within my role at Powersystems. A short summary of the courses I've done so far:
CADLine Autocad proficiency course (useful for technical drawings and design) – 1 Week
Aston "Competency within the distribution system" – 6 months distance learning course to complete outside of work
CSCS – electrical safety certification
E-Learning courses on health and safety at work
Electrical safety rules training
EA Technology course – overview of electrical power systems – 1 week
OP40 Operational course – For operation of HV Switchgear – 1 week
18th Edition wiring regulations – 1 week
SMSTS – Site manager safety training scheme – 1 week
How are you working and engaging on across other parts of the business?
I have previously worked with the tendering team for design support on some of their tender submissions. For example, Rag Lane and Crystal Rig are two jobs which I helped out with last week. Recently I have been involved with the workshop in designing new training facilities for the circuit breaker remote control panels we are building for use within our commissioning/simulation corner.
How do live by the Powersystems principles, how do you positively affect these?
I try to carry out all tasks as safely as possible, and health and safety as Priority No.1 is something which I always try to consider within my designs, or when helping produce RAMS. We are encouraged to report safety observations whenever we visit an active site, so this is something which is in the forefront of my mind. To make our operations as safe as possible is something which has really been emphasized by our SHEQ meetings.
Professionalism is a perspective which I always try to approach jobs with, particularly within communications to perspective clients.
I always take pride in what I do and try to be as proactive as possible when planning out my work day-to-day. And partnership with other employees and clients is something which is constantly developing, as I am trying to support others as much as I can.
What unexpected opportunities have you been given for development, whereby you have increased, knowledge, skill, and experience?
Two examples of unexpected opportunities for development were in jobs which I took on for colleagues:
Installation of the company electric vehicle charger's. This was a real challenge as the considerations for charge point earthing is a specific part of the 18th edition wiring regs. So it required a lot of consideration for designing, before procuring electrical equipment
Solar PV assessment – I agreed to do a financial model and cost/benefit assessment of installing solar panels on the roof of our Yate office. I carried out a NPV (net present value) calculation, fitted a PQA (power quality analyser) on our building incomer to monitor power consumption and did a simulation within PV Syst using meteorological data to calculate expected solar power yields
Tralorg G5/4 assessment – I produced a G5/4 harmonics report for PQA data gained at Tralorg wind farm. I compared the planning and compliance levels for harmonic acceptance levels against those of our PQA assessment. This was a good learning experience for me as it was the first formal report, I had submitted to a client directly.
What are the benefits for working at Powersystems?
There are numerous hard benefits associated with working at Powersystems as a graduate engineer. To list a few:
Company car policy
Cycle to work scheme
Mileage scheme for trips up to site
Company profit share
Discounted private healthcare scheme
Matched pension contributions
Holiday exchange scheme
As well as access to training, and an active role in supporting development within the company. As I've mentioned previously, the level of support you get in the role is one of the key benefits within the role.
Engineers of the future:
I think the most important skills to display within the graduate role are a positive outlook and perspective on learning and development. Skills can be developed within the role, but there is a lot to be said for a positive outlook and being personable within your team. Going forwards, innovation and an ability to develop and improve previous designs and system in line with progression within the industry are important, to ensure that designs are constantly evolving and improving in line with client demand. Efficiency and sustainability are key considerations within all of the work that we do.
How would you solve the UK grid stability challenges?
Issues of grid stability within the UK's electricity mix are a relatively new problem. Infiltration of renewables mean that most generation is now decentralised, comprising of distributed power sources. This is an issue compared to traditional means of generation due to vulnerability to reactive power and frequency transients which can make the overall system fragile. Strategies to overcome this lie within the installation of rotating stabilisers such as the unit we installed at Keith Greener Grid Park, which have a high associated inertia due to the spinning mass of the flywheel at the centre of the stabiliser. This flywheel allows for the system to effectively ride through periods of instability and improves the overall inertia of the system. I think the answer to instability issues lie within schemes such as the Keith project, in addition to more large-scale low carbon centralised generation such as combined cycle gas turbines, or nuclear fission plants (such as the project we are undertaking at Hinkley C), to compensate for the instability introduced by decoupled power generation. I think rotating stabilisers are something which we will see being rolled out more consistently across the UK.
Why have you chosen electrical engineering as your career?
Hi, my name is Jacob, I am currently a graduate engineer at Powersystems.
Before university, I had a keen interest in renewable energy and power distribution.  I studied electrical and electronic engineering at Loughborough University . I chose to study electrical engineering at university to learn more about the fundamentals and to get a great job in the industry. I completed work experience and part time roles at the National Grid, an electronics company, and a transformer assembly firm, which also helped me realise the line of work I wanted to do.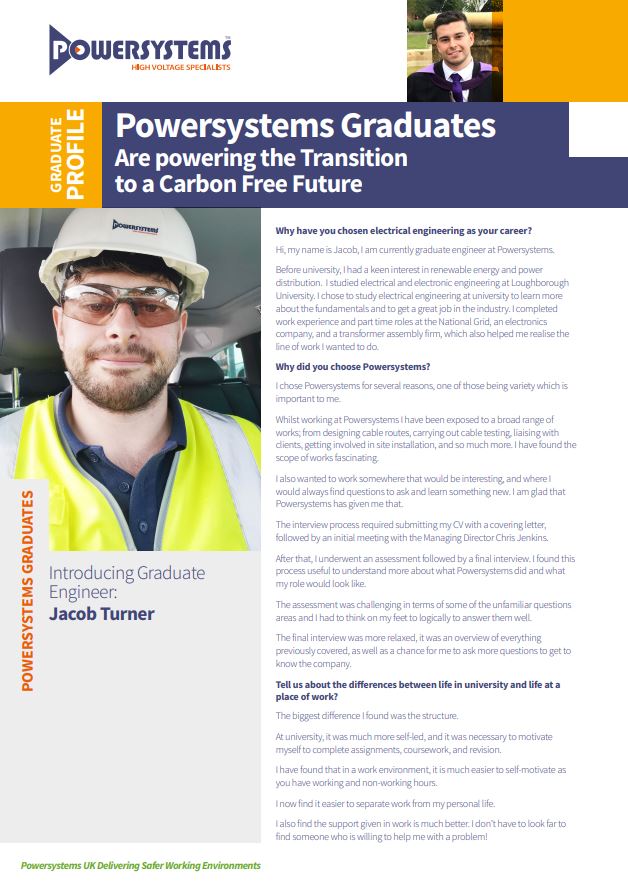 Why did you choose Powersystems?
I chose Powersystems for several reasons, one of those being variety which is important to me. Whilst working at Powersystems I have been exposed to a broad range of works; from designing cable routes, carrying out cable testing, liaising with clients, getting involved in site installation, and so much more. I have found the scope of works fascinating. I also wanted to work somewhere that would be interesting, and where I would always find questions to ask and learn something new. I am glad that Powersystems has given me that.
The interview process required submitting my CV with a covering letter, followed by an initial meeting with the Managing Director Chris Jenkins. After that, I underwent an assessment followed by a final interview. I found this process useful to understand more about what Powersystems did and what my role would look like. The assessment was challenging in terms of some of the unfamiliar questions and I had to think on my feet to logically answer them well. The final interview was more relaxed, it was an overview of everything previously covered, as well as a chance for me to ask more questions to get to know the company.
Tell us about the differences between life in university and life at a place of work?
The biggest difference I found was the structure. At university, it was much more self-led, and it was necessary to motivate myself to complete assignments, coursework, and revision. I have found that in a work environment, it is much easier to self-motivate as you have working and non-working hours. I now find it easier to separate work from my personal life. I also find the support given in work is much better. I don't have to look far to find someone who is willing to help me with a problem!
The Powersystems graduate structure:
I started working for Powersystems in October 2020. When I started, I was given an overview of what kind of things I would be doing over the next 2-3 years. The graduate structure was designed to give me a thorough look into key areas of the business, and to fully understand what Powersystems do. I was also given an option after the first 3 months to decide what kind of career direction I wanted to take – either following a design engineer route, or a project engineering route. I preferred the project engineering side, which has enabled me to continue my journey and I am now managing my own projects. I have been able to change my decision at any point, however I really enjoying the route I have taken. I have also been shadowing an engineer at Powersystems throughout the graduate scheme and this has been invaluable. It has meant that I have learnt a lot from being exposed to many different types of projects, and how projects should be designed, managed, installed, and commissioned.
What further learning have you undertaken outside of working at Powersystems to develop yourself professionally?
Alongside working for Powersystems, I have also completed training courses closely linked to the industry, such as a distance learning electricity distribution course. I am actively working towards chartership alongside my work. I am a member of the IET, and through the work I'm doing at Powersystems, I hope to become a Chartered Engineer in the future.
Tell us about a typical week at Powersystems?
Typically, I work 3 – 4 days per week in the office and 1-2 days per week on a client's project site. This has provided valuable insight into the types of works that occur on site and has also provided the direct experience working with the specialist site teams to install and implement projects as they have been designed. When on site, I assist the site supervisor with anything from ensuring method statements are being followed, discussing future milestones of the project, answering design questions, liaising with the client, ordering equipment and much more. I've gained incredible experience from being on site and witnessing works first hand. I have even been able to try my hand at cable jointing whilst working at Powersystems!
Whilst in the office, I have gained financial experience with managing purchase orders and invoices to understand budgets controls better. I have gained further project and technical management as well as Health and Safety experience through creating risk assessments and method statements (RAMS), compiling operation and maintenance (O&M) documents, producing cable schedules, completing, or checking drawings on AutoCAD, reaching out for quotes for equipment, client, and supplier meetings, as well as training workshops. I have found it very rewarding having a varied workload and managing the responsibilities that this has bought, this depth of experience and broadened knowledge is enabling me to become a better engineer.
I find most days that there is an opportunity to realise how far I've come from my first day at Powersystems. It is incredibly satisfying to look back on some work, or an accomplishment that day or week, and know that it was something I couldn't have done a year and a half ago.
The biggest change I've noticed is in my confidence and ability to work under pressure. There are quite a few occasions where I have realised that I have done a piece of work, completed a drawing or had a conversation with a client, where I haven't doubted myself. It's satisfying to know that I am building on a lot of skills, and becoming a better engineer.
What are the benefits for working at Powersystems?
I enjoy the work itself, the satisfaction that comes with the work I'm doing is very rewarding. I also gain tremendously from being around highly experienced and knowledgeable engineers. This means that I have developed more quickly and that I haven't felt stranded when working. Another benefit is the fact that the business is employee owned. As well as getting a say in the direction of the company, the profit share we receive is also a bonus.
Engineers of the future:
I think when you are starting to plan your career, it is important to be interested in the industry that you want to work in. If you have a natural interest in your work, it is very easy to find the motivation to work hard. In electrical engineering, you will go further if you have a strong work ethic, a willingness to learn, ask questions, and bring a positive attitude each day.
There are big challenges for electrical engineers to solve in the UK to achieve net zero. These challenges also bring big opportunities and chances for individuals and teams to make a difference and solve engineering problems through innovation, efficiencies and finding solutions to some of the worlds now most complex challenges.
Speak to Powersystems today
You can contact us as follows